In
Red Plush and Black Velvet: The Story of Nellie Melba and Her Times
(1961), author Joseph Wechsberg recounts the tale of a dinner hosted by Charlie Chaplin for the celebrated opera singer:
"He once took her to dinner at the Raymond Hotel in Pasadena, pretended to have forgotten his wallet, and paid the bill with a heap of silver dollars that he collected out of his pockets, performing one of his early slapstick pantomimes."
Well, here is the menu from that meal, held on Sunday, March 11, 1917. It is among a collection of Melba's papers bought at auction by the National Library of Australia:
http://www.nla.gov.au/apps/cdview?pi=nl ... 31-40-s2-e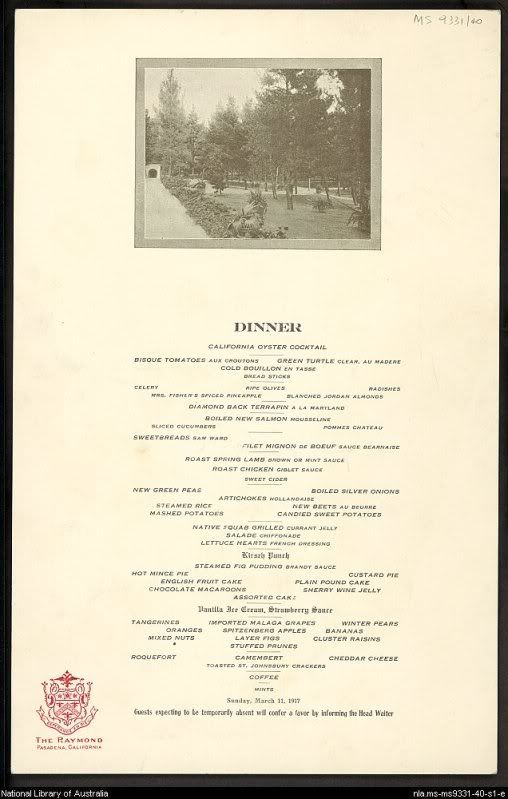 Wechsberg goes on to record Melba's supposed claim that "Chaplin offered her a small part in one of his pictures, but perhaps it is just as well that she never did it. It is hard to imagine her as a movie star."
Yet history records that the two great stars
did
indeed shoot a scene together. David Robinson describes Melba on a visit to Chaplin's new studio fooling for the camera: "Chaplin walked down a flight of stairs with her and did a comic fall. Melba jerked him to his feet, slammed his hat on his head and said: 'Charlie, behave yourself. This is not a place of amusement'."
In fact, so pleased was Melba with the results that she seriously entertained the idea of giving the footage a theatrical release in her home country in support of the war effort, a notion we can assume Syd and Charlie dismissed politely but firmly: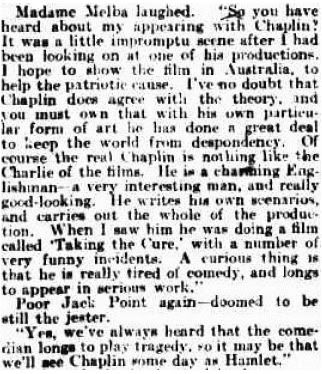 (Melbourne Argus, 11 May 1917)
What hapened to the footage remains a mystery. But it seems Melba was so taken by Chaplin's serious demeanour that she would return to the subject a decade later in her memoir,
Melodies and Memories
(1926):